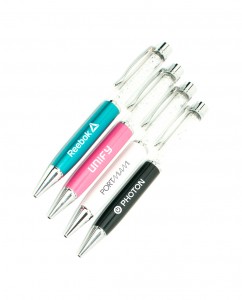 Promo gifts are great. They help business owners advertise their companies in very cost-efficient and effective ways. Readers of the Synergy Marketing Blog are very well aware of the many benefits that promo gifts provide. Just yesterday, we unveiled some statistics that found Canada to be the second highest user of promo gifts in the whole world! Evidently, Canadian entrepreneurs know the value of a good promo gift.
At Synergy Marketing, we've learned that it's not just the high quality of our gifts that do the trick. We often discuss, with our clients, the many different marketing strategies that they can use to give their promo gifts more power. For example, they can hold contests using the promo gifts as prizes. This doesn't just make use of promo gifts as regular gifts. It positions the business to attract new customers through a fun and interactive method.
On Nebs.ca, it is noted that there are many interesting and effective ways to utilize promotional products. "Try to pick a time that ties in with something directly related to your business – like an anniversary, open house, or the launch of a new product or service," advises the website. Tying in your giveaway to something "bigger" is a great way to generate more interest in your brand.
Here are four creative ways to use your promotional gifts:
1. To reinforce early orders and early payments. Promo gifts are often used as ways of saying "thank you". In this case, Nebs.ca is highlighting the importance of showing appreciation to those who can be relied upon to own up to their end of the bargain. "For instance, send a pen to customers who consistently pay once a bill arrives," recommends the website. It never hurts to give thanks.
Check out our pens HERE!
2. To thank customers for their business. Speaking of giving thanks, there's no reason to not offer it to each of your customers just for doing business with you. It's a nice gesture that can go a long way. Especially because promo gifts are useful, the gesture will be received as one that adds great value to the interaction. "For example, bicycle dealers may want to give out free water bottles with the purchase of every bicycle and auto repair shops may include floor mats with every service job," suggests Nebs.ca.
3. To support community events, sport teams and educational programs. Giving back to the community is always a good idea. "Instead of giving money to your town's summer festival for instance, try donating Frisbee® Discs imprinted with your logo," advises Nebs.ca, "Or donate balloons to the high school graduation ceremonies as a way of showing your company's pride in students' accomplishments."
4. To recognize employees for their hard work and length of service to your company. Boosting employee morale should be a part of your everyday tasks. Your company is only as strong as the people you have hired to represent it. "Remember, employees who feel good about your company may do a better job with customers," says the website. It's just as important to thank your staff members as it is to thank your customers.
"Used creatively, promotional products can help differentiate your company from the competition, build relationships with current customers, and attract new business," reads Nebs.ca, "They can also create feelings of goodwill and encourage the word-of-mouth your company relies on for new business." To get your hands on some excellent promotional products for your business, call Synergy Marketing at 1-877-748-9884 today!
Comments Off on 4 Creative Ways To Use Your Promotional Gifts