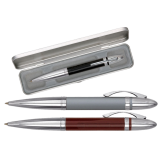 Okay, so we admit it. We have a bit of a bias going on. Even though we enjoy blogging about the various ways in which Canadian business owners can grow their businesses, at Synergy Marketing, we believe that promotional gifts sit at the top of the heap of great advertising ideas. But can you blame us? For quite some time, we've been proving that when business owners hand out our high-quality promo gifts to their customers, they grow their reach and increase their sales.
But you don't have to just take our word for it. On MyTopBusinessIdeas.com, Ajaero Tony Martins writes that "there's no marketing strategy more effective than a 'free give away' to get people's attention. It doesn't even have to be great stuff. If it's free, people will definitely want it. That's why logo products and promotional items are a great idea for any marketing or advertising campaign."
And here's one of the best possible things about using promotional gifts to grow your business. It isn't expensive! Most business owners are concerned about overreaching their budgets when thinking of ways to advertise. And we completely understand that. After all, most traditional advertising campaigns are quite pricey. TV commercials, radio spots, billboards and print ads can all cost you a pretty penny.
But as Martins points out, "when it comes to using promotional products or items, you don't have to spend a ton of money to make it worthwhile; as there are some simple and effective ways to use inexpensive products to send a powerful message about who you are as a company." So how can one use promotional gifts so that they provide maximum effectiveness? Martins makes three suggestions that he believes are smart ways to attract customers.
1. Be Memorable. Think about standing out from the crowd, insists Martins. How can you grab the attention of your potential customers when you first meet them? By attending trade shows and similar events where networking is a must, you'll want to leave everyone you meet having made an amazing first impression. Consider giving out gifts that no one expects. The more eye-catching, the better. One of Martins' suggestions is a Frisbee!
2. Be Useful. What makes promotional gifts such amazing advertising tools is that they can be put to use. Flyers and business cards can't make half the impact as a promotional gift because they are literally good for nothing. Martins points out that pens and calendars, for example, are both popular and effective because they are prone to being used frequently by their recipients. Consider the impact of your client being reminded of your brand on a daily basis.
3. Be Outspoken. "Aside from all of the practical functions they can serve, promotional products can speak to a company's corporate culture and philosophies," writes Martins, "A laid back business that believes in a fun atmosphere can use logo items to convey that sense of personality." He cites water bottles as excellent examples of promo gifts that communicate a company's principles. In this case, your commitment to health and protecting the environment is conveyed.
As you can imagine, Synergy Marketing has the best Frisbees, pens, calendars and water bottles available in the industry. After all, we do pride ourselves on offering the best promo products! So why not give us a call at 1-877-748-9884 to order to promo gift of your choice today? Our reps are standing by to assist you in selecting the gift that will best represent your business, giving it the greatest possible chance to grow.
Comments Off on 3 Of The Best Ways To Attract Customers With Promo Gifts