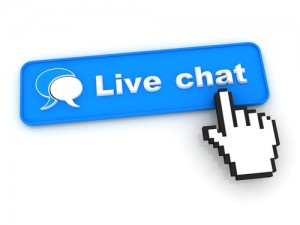 Since Synergy Marketing's inception, we have utilized the phone as our number one source of communication with our customers. We continue to encourage our customers to give us a call at 1-877-748-9884 in order to speak with any of our friendly and knowledgeable sales reps about the wonderful array of promotional products that we have to offer. However, you may have noticed that our website has incorporated a new wrinkle in recent weeks.
What is that new "wrinkle" on our website? That wrinkle is our brand new "live chat" feature which enables our website's visitors to speak with one of our live agents in real time through their computers! Considering that Synergy Marketing has always been about providing our customers with options, it only made sense for us to provide our prospective clients with another communication option. And it has certainly worked wonders for us so far!
Why is "live chat" so effective? Perhaps, it's because it's so easy to use. On the home page of our website, you'll notice a red icon at the bottom right corner of the screen. It reads "Chat live with an agent now!" Just below that, it reads "Have a question?" By clicking on the icon, you will be prompted to fill out your name and your question. There are two boxes to input your information. One reads "Your name?" while the other reads "Start off the conversation…"
Once you've completed filling out the boxes, simply click on the red "Start Chat" button which is located below them. Within seconds, you'll be speaking to a live representative who will be able to assist you with any questions that you have. We've found that this new interactive approach to our website has greatly assisted curious website visitors with getting the information they need to make smart choices about which promo gifts to use to advertise their brands.
How did we establish the "live chat" feature? Thanks to Tawk.to, we have implemented this new widget on our site and it has allowed us to engage with our website visitors in real time. We've found that it has made life a lot easier for our potential customers because not all of them have time to make phone calls. "Live chat" features allow busy online users the ability to multi-task. The conversations take place at paces that are comfortable for them.
With our new "live chat" feature, information seekers can ask their questions, do their own work and surf the web as they please. If they were on the phone, they would be required to provide their undivided attention. And we know that, at times, this can be considered too time consuming. Especially when your customers are business owners – like ours are – live chats allow busy workaholics to be a lot more efficient with their time.
How do live chats help to grow your business? According to Kissmetrics.com, "an ATG Global Consumer Trend study found that 90% of customers consider live chat helpful and an emarketer.com survey found that 63% were more likely to return to a website that offers live chat. The report goes on to say: '62% reported being more likely to purchase from the site again. A further 38% of respondents said they had made their purchase due to the chat session itself. All these attitudes were even more prevalent among respondents who bought online at least weekly.'"
Please feel free to give our new "live chat" feature a try right away! Of course, you can always place your order for the promo gift of your choice by calling Synergy Marketing at 1-877-748-9884 between 9am and 5pm EST or emailing us at info@gosynergygo.com! You can also sign up for our Insider E-Flyer Program HERE!
Comments Off on Chat Live With An Agent Now!