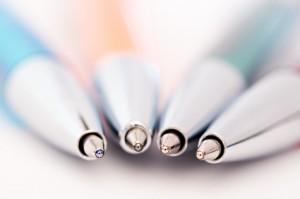 The Synergy Marketing Blog has existed now for nearly five years. It's hard to believe that, back in October of 2009, when we introduced our blog with an entry entitled "Welcome To The Best Blog On The Internet", we would come this far. You may be wondering just how far we have come. And you may also be wondering just how writing daily blogs have helped us to come anywhere at all.
Well, blogging, you see, works wonders for delivering more traffic to your website. With a plethora of new content updated on our site on a daily basis, we give online users the opportunity to find us a lot more often in their web searches. We know this, in fact, because we keep finding Synergy Marketing pop up when we search for such key words as "smart promotional ideas". When you type these words into Google, our recent "6 Smart Promotional Ideas" blog pops up as 5th on the list of finds!
The point is that blogging has certainly helped Synergy Marketing to grow. We are a lot more active on social media because of it, and we find that we are engaging a lot more with the clients who call us. Blogging opens up the lines of communication. And any good relationship has good communication at its base. After all, that's what you're looking for, isn't it? Good relationships with your customers are key ingredients to a successful brand.
On Writtent.com, Christina Walker lists a number of creative marketing ideas for small business owners and other entrepreneurs. Interestingly, she begins her list with a number of tips insisting that the entire process of writing and providing your online visitors with relevant and interesting content is of paramount importance. Let's take a look at just four of her ideas so that you get a better picture of how the written word can help your bottom line.
1. Create relevant content on your website. As we mentioned earlier, having the Synergy Marketing website updated daily has helped us grow our reach on our Facebook and Twitter pages. Our blogs have introduced us to a much wider client base – many of whom have taken advantage of the benefits of handing out promotional products to their customers. Make your blogs interesting and informative. It will help for your website to pick up steam.
2. Reuse content. A member of our Synergy Marketing sales staff recently mentioned that we have so many blogs that we could publish a book. Walker actually recommends that you do just that with your content. "Blog posts can be collated into an ebook," she suggests, "a webinar recording could become a subscriber-only video, a magazine article could be reprinted and distributed as a booklet…the possibilities are endless."
3. Write a book or ebook. You don't necessarily have to simply turn your blog into a book. With all the expertise you have about your industry, perhaps penning a helpful book will be the best way to grow your reach as a professional. "Books have more value than most other types of content and establish your expertise," says Walker, "You can sell them or offer them for free in exchange for email addresses."
4. Try article marketing. We all know that marketing your business can cost you big bucks. But it doesn't have to. The written word is one of the least expensive ways to get your word out about your business. According to Walker, "publishing articles online creates good backlinks to your website, shows expertise, builds credibility, and more. It's also relatively affordable and easy to outsource."
Speaking of inexpensive ways to market your business, our promotional products are the best in the business. Order yours today by calling 1-877-748-9884.
Comments Off on 4 Ways The Written Word Can Help Your Bottom Line