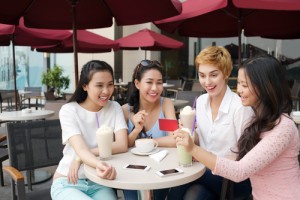 In less than two weeks, we'll be able to officially celebrate the start of spring. Here's hoping that the weather in your neck of the woods will actually feel like it! It's inevitable that temperatures will warm up. And, as business owners across Canada know, that's when customers' buying habits begin to change. This is true for just about any industry. But, it's certainly a reality for those who own restaurants.
Restaurant owners often benefit from the warming up of the weather, especially if their places of business have patios. They open a lot more space to entertain guests, and therefore welcome more opportunities to grow revenue. However, it's important for restaurateurs to not rest on their laurels and assume that the advent of spring will automatically bring more people through their doors. It's important employ some smart spring marketing strategies.
Here are three:
1. Introduce warm weather specials. In Canada, the warming up of the weather in the springtime is certainly something worth celebrating. You don't need to wait for a specific holiday in order to promote a festive occasion taking place at your restaurant. Simply advertise that you're offering special discounts on select items on days when the weather is above a certain temperature. This is bound to generate excitement for your establishment.
On Upserve.com, the Swipely Team highly recommends this marketing strategy. "For great, in-the-moment, effective restaurant marketing on social networks, put up warm weather specials just while everyone is newly excited about the rising temperatures and wanting to get out of the house," they recommend.
2. Make a big deal out of spring's holidays. Sure, there's no Christmas or Halloween. But the special occasions that take place during the springtime are still worth enjoying. There's no reason why your restaurant can't make a big deal out of them. St. Patrick's Day, Passover, Easter and Mother's Day are all coming up. And, there are a variety of ways you can make each of these days a special one at your place of business.
"Many restaurants (can offer) traditional Irish food for St. Patrick's Day, drink specials and other retailers played up the green and 'lucky' associations," says the Swipely Team, "Don't forget Passover approaching if you offer kosher foods! And Easter and Mother's Day can be popular days for brunch, as well as flowers, jewelry and small gifts."
3. Celebrate the return of baseball. If there was ever a spring to take advantage of the impending Major League Baseball season, it's this one. With the amazing success of the Toronto Blue Jays last year, the entire nation is still in a frenzy over the prospects of Canada's sole MLB team making it back into the postseason this year. Spring training has officially started. Why not begin broadcasting games at your restaurant to build the excitement for the regular season?
"Baseball season hasn't officially started, but it is heavily anticipated with several televised Spring Training games happening every day that would bring fans into your bar or restaurant who are already looking to predict the season's big match-ups and standings," informs the Swipely Team, "If you have a lot of hockey fans amongst your loyal customers, you may want to start planning now for the Stanley Cup Playoffs that begin in April!"
And don't forget that Synergy Marketing has a wide array of amazing promo gifts that you can give out to your customers. To place your order for the promo gift of your choice, call Synergy Marketing at 1-877-748-9884 between 9am and 5pm EST or email us at info@gosynergygo.com! You can also sign up for our Insider E-Flyer Program HERE!
Comments Off on 3 Smart Spring Marketing Strategies For Restaurant Owners