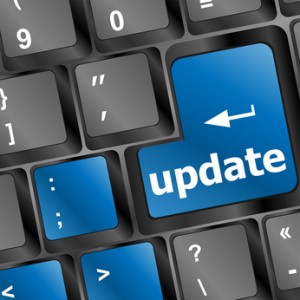 As you're likely well aware, the Synergy Marketing website received quite a facelift this week. As we reported in our blog yesterday, the new site presents our brand in what we feel is a sleeker and more professional light. Company growth is just one of the many reasons that a company website should change. It makes sense to communicate that growth by the ways in which you present your brand to the general public.
Because Synergy Marketing continues to grow its client base, we knew that it was time to display our "ever-growing" status. And we have you to thank for that! To the many business owners throughout Canada who take advantage of our fantastic promotional products to advertise their companies, we are truly grateful. We are confident that your promo gifts will help for your business to grow quite significantly.
And when it does, perhaps revamping your company website would be the next logical step. According to Jessica Hill of HubSpot.com, "these days, your audience's first impression of your business is based almost exclusively on your website … so redesigning your website isn't a task to take lightly. It requires a good deal of thought, time, and potentially money, but the upside can be enormous." Here are five reasons to revamp your company website.
1. You want better results. Is your current website communicating the right message about your brand? It may look unbelievably appealing and professional, but if it's not bringing you the results you want, a change is likely needed. Hill notes that your site should include ways to convert visitors into leads and customers. Consider the image that your website presents of your business and ask yourself if it is truly representative of your brand. Make changes accordingly.
2. You want it to work better. Have you ever visited a website and found that certain links simply aren't functional? Do the pages take forever to load? If your site isn't working properly, there's a definite need for an upgrade. "Functionality should be a paramount focus for you — if it's not, your traffic and lead gen efforts could suffer," writes Hill. It's important that navigating your site isn't a confusing process. You don't want your important content to be hard to find.
3. You want it to be mobile friendly. According to Hill, "more than 17% of all web traffic comes from mobile devices." And, to be honest, we wouldn't be surprised if that number is actually a bit higher. It seems as if everyone with a smart phone these days uses it to surf the net. It's important that your site is compatible with such devices. "Mobile users have made it clear they want to have a great UX (user experience) on their devices — the same ones they have on desktops," Hill reports.
4. You want to incorporate better content. With so many websites on the internet – they're practically countless – your website has some stiff competition. The more informative, interesting and relevant content your site has, the more likely it is to be picked up in search engines. "Having fantastic content on your site can improve everything from customer retention to SEO," says Hills. If your site doesn't have a regularly updated blog, it's time to get one going!
5. You want to outdo your competitors. Take a look at your competition's websites. How does it look? How functional is it? Is it mobile friendly? Is it easy to navigate? Does it have a blog? Now go and make your website better! "If you spend some time on a competitor's site and realize it could meet your goals far better than your own site does, it's time to roll up your sleeves and get busy," insists Hill.
Take a look at the many great promo gifts we have displayed on our new website and be sure to give Synergy Marketing at call at 1-877-748-9884 to order the gifts of your choice today!
Comments Off on 5 Reasons To Revamp Your Company Website