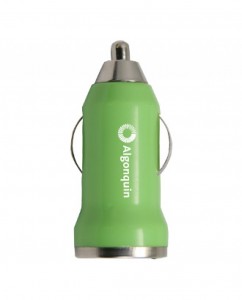 Last week, the Synergy Marketing Blog touched upon the topic of swag bags and highlighted how important they'll be this summer. Whether you plan on hosting an industry event yourself or plan on being the sponsor at a conference, you'll certainly want to make your presence felt through the many swag bags that will be given away. As we pointed out last week, some promo gifts seem to have bigger impacts than others.
So what are some of the best gifts to give out in your swag bags? We'd have to list USB chargers among the top choices. At Synergy Marketing, we offer both USB car chargers and USB power banks. In today's digitally-obsessed world, you'll be hard pressed to find an individual who couldn't make use of a charger for their mobile devices. As Rachel Sprung points out on HubSpot.com, people are always on their phones!
"Give out mobile chargers, and every attendee will love you for it," she insists, "Oh, and they'll probably learn your name, too. Not only will they be pleasantly surprised when they see such practical and thoughtful swag, but having their phones charged will mean they'll be able to engage even more throughout the conference, which is great for the conference coordinator. Finally, they'll likely use that mobile charger beyond the last day of the conference."
Are seasonal items good items for swag bags? They sure are! Sometimes, it can be easy to get caught up in giving out gifts that will be used all-year-round. However, this summer, you'll truly stand out if you offer gifts in your swag bags that can help to bring more enjoyment to the current season. At Synergy Marketing, we offer Flying Saucers (better known as "Frisbees") which are perfect summer gifts.
"One way to make your swag bag stand out is by filling it with fun, seasonal items," says Sprung, "Most companies don't give out seasonal items because they're looking for gifts that can be used year-round, but that fact alone makes these items even more special. If you're hosting a summer conference or an event in a beach location, for example, then think about giving out items like beach towels, flip flops, and frisbees."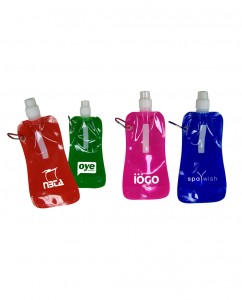 How effective are water bottles as swag bag gifts? They're among the best! In fact, reusable water bottles fall into both the seasonal and all-year-round categories. Not to mention, these gifts say a lot about your commitment to fostering a healthier environment. At Synergy Marketing, we have a great variety of water bottles to choose from in the Drinkware section of our catalogue.
"It may sound like a simple idea, but reusable water bottles are some of the most valued swag items given out at conferences," reports Sprung, "First of all, they're convenient — and a lot easier to handle than open cups of water that can easily be spilled everywhere. They also encourage attendees to stay hydrated, which can be hard for people to remember when they're rushing from event to event. Finally, reusable water bottles pair well with the recent emphasis on conferences going green."
To place your order for the promo gift of your choice, call Synergy Marketing at 1-877-748-9884 between 9am and 5pm EST or email us at info@gosynergygo.com! You can also sign up for our Insider E-Flyer Program HERE!
Comments Off on What Are The Best Promo Gifts To Fill Swag Bags With?