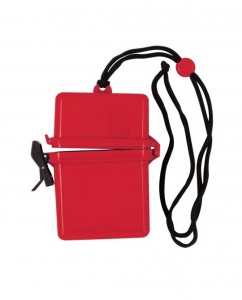 Are you looking to promote your business, get more customers and not pay a bundle to do so? Attach your company name and logo to a great gift that you can hand out to your customers! Show them you care and they will remain loyal. At Synergy Marketing, our experience has proven that this is a tried-and-true advertising strategy. And we provide the best promo products in the business!
Our list of great promo gifts continues to grow in 2016! In yesterday's blog, we introduced some new products that are part of our Automotive line of gifts. In today's blog, we'll share some more great gifts that can come in handy as business-advertisers no matter what industry you're a part of. Be sure to give us a call at 1-877-748-9884 to place your order for the promo gift of your choice today!
1. Beach Safe. Although this great gift comes in especially handy during the summer, when people are going to the beach, the cottage, the golf course or on a hike, it can be used year-round to keep your cards and other important valuables such as keys safe and secure. Equipped with a pull-string to keep secure around your neck or wrist, this Beach Safe promotional gift is definitely a winner! Only $3.95 each.
2. Back Scratcher/Shoe Horn. Promotional gifts are meant to give their recipients great feelings. But this particular gift does so literally! We've all had needs to scratch our backs on many an occasion. A back scratcher, such as this one, makes the perfect solution to the itchy back problem. This 2-in-1 gift, however, doubles as a shoe horn! So when you're done scratching your back, you can easily slip on your shoes without having to do any major bending. Just $3.95 each.
3. Polarized Aviator Sunglasses. Sunglasses were once among the most popular gifts offered by Synergy Marketing. And there's good reason for that. They're needed all year round! During the winter, when all that snow can make it difficult to see while driving, a good pair of shades really comes in handy. And, it goes without saying how important sunglasses are during the sunny summer time. These great Polarized Aviator Sunglasses are only $30.00 each.
4. Carpenter Pencils. Perhaps, our most affordable promo gifts ever, the Carpenter Pencils go for just $1.00 each. Available in either black or yellow, these gifts make for the perfect cost-effective ways to advertise your business. Place your company name and logo on these gifts and hand them out to as many customers, clients and colleagues as you can. They are excellent for building your brand's buzz!
5. 4 Piece Slate Coaster Set. We all use coasters for our drinks. Why not have people use coasters that bear your company's name and logo? These great coasters allow for a one colour imprint which is also included on a great gift box. This elegant four-piece set of coasters also includes rubber protectors in order to prevent scratches. Another great addition to our high-end promo gifts, the 4 Piece Slate Coaster Set is $29.95. A two-piece set is available for just $19.95.
Don't forget to call us at 1-877-748-9884 to order the perfect promo gift for your business today!
Comments Off on 5 More Great New Promo Gifts To Choose From