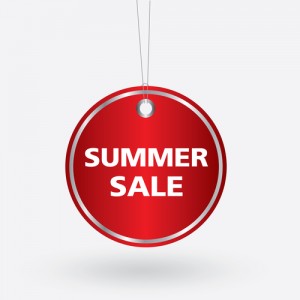 When the summertime comes – and it's here! – there are plenty of opportunities to promote your business in new and interesting ways. As we've blogged about a number of times in the past, the summer encourages more people to come out of their homes. But that doesn't necessarily mean that they plan on paying your place of business any visits. That is, of course, unless you find great ways to entice them.
Here are three sweet summertime marketing ideas:
1. Partner up with other businesses. Surely, this is an advertising strategy that can work all year round. But, remember that more people are likely to be out and about when the weather is nice. Therefore, if you have partnered up with another business that you're not competing with, you will double your chances of having customers learn about you. Offer to promote other businesses in return for their referrals of your brand.
On PsPrint.com, this marketing strategy comes highly recommended. "You can partner with non-competing businesses to put together attractive packages that offer customers discounts but ensure you and your partners profit," writes Brian Morris, "Dinner, movie, spa hotel package, anyone?" He also recommends that you extend your partnerships to sponsoring popular events that take place throughout the summer. It can't hurt get noticed at all the festivals and concerts.
2. Host a summertime event. In addition to sponsoring other events, why not host one of your own? Throw a summer party on the grounds of your business to give people opportunities to check out what you have to offer. At the very least, they will become aware of where you are located and may just develop an interest in returning long after the party is done. However, as Victoria Vessella points out on Business2Community.com, you have to plan your party intelligently.
"In order for your event to be successful, make sure the event includes elements that will make customers want to attend," she writes, "Be especially conscious of those customers who cannot travel during the summer for one reason or another and therefore are craving downtime. Attendees will leave your event satisfied if they have been provided with ample food and drink and the opportunity to relax with other members of the community."
3. Offer giveaways. Clearly, this tip is right up Synergy Marketing's alley. As we highlighted in yesterday's blog, promo gifts have been proven to benefit the businesses that give them out. When you offer customers something for free, they are lot more likely to want to come back to visit you again. Not only do promo gifts make excellent "thank yous", but they provide incentives to people to keep doing business with you.
"Consumers become more attracted to your business and less attracted to your competition when they have the possibility of receiving something for free," believes Vessella. "Giveaway items can include your company's staple products, seasonal items (such as beach towels, flip flops, or sunscreen), technology devices (such as a tablet), gift cards to non-competing businesses, or other items branded with your company's logo."
You do know, of course, where the best place to buy your promotional products from is, right? At Synergy Marketing, we offer high-quality products that are known for helping Canadian business owners grow their reach and improve their brand images. We have a wide selection of promo gifts to choose from. Be sure to check them out on our website and then give us a call at 1-877-748-9884 to place your order!
Comments Off on 3 Sweet Summertime Marketing Ideas