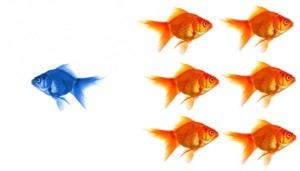 Making your business stand out from its competition doesn't have to be an expensive task. This is a topic that we tackled in yesterday's blog with the help of Jeff Howell from SteamFeed.com. He writes that creativity can often trump cash when it comes to marketing your small business. And with that, he offers a number of tips to help entrepreneurs set their brands apart. In today's blog, we'll conclude our look at that list with four more great tips.
1. Don't just network — host an event. You have likely often heard that networking – both in person and through social media – is an essential part of business advertising in today's world. But is there a better place to network than at an event that you're hosting yourself? Howell writes that "hosting an event is a powerful way to get known by a lot of people at once. Why? Everybody comes over to thank the host."
He goes on to suggest that you hold your event at your place of business to make obvious where your store is located. This will help to bring new people directly to you, giving you the best chance to showcase your products, services and top-of-the-line customer service regimen. Not to mention, hosting an event will allow you to showcase your personality – a trait that will go a long way in securing you new and loyal customers.
2. Referral rewards. There's nothing like a strong incentive to get people to help you out. And as Howell points out, "this one's still around because it works. Let customers know you'll pay them $100 if they send you a customer, and turn your customers into your marketing team." There are, of course, other ways to provide incentives to your customers. Naturally, useful promotional products are a top recommendation. Call Synergy Marketing at 1-877-748-9884 to order yours today!
As well, discounts, 2-for-1 deals and other freebies are all excellent bonuses that can be offered up to customers who recommend your store to their families and friends. It is often said that word-of-mouth promotion is the best kind to have. Who better to advertise your brand than its happy customers? Make it worth their while and they will continue to support you for many years to come.
3. Simplify. Howell insists that you make it easy on your customers by taking it easy on your customers. "Remember that too many marketing messages confuse customers, especially as you spread them across various social-media channels," he writes, "Try to pare down to three choices in all aspects of your marketing, from how many fonts you use to how many times you follow up."
4. Make it musical/visual. "Weird Al" Yankovic has just released his new album, Mandatory Fun. For those wondering how the king of song parodies has lasted over three decades in a generally-fickle music industry, it's because he is excellent at adapting to the times. In recent interviews, Yankovic has acknowledged that he is utilizing the internet to promote his new album more than ever before. And millions across the world are paying attention!
He is currently on an "8 videos in 8 days" marketing campaign for the new project. So Howell poses the following: "Does your company have a theme song? A musical jingle you could share? Use tools such as Spotify to share a musical message with prospects. Create a YouTube commercial for your business and share it via social media." You may not be a singer, but "Weird Al" is proving that such a strategy is bound to garner attention.
Comments Off on 4 More Ways To Set Your Brand Apart