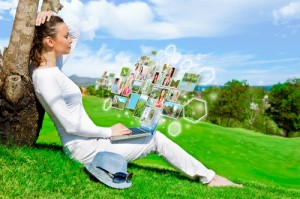 July might almost be over. But the summer sure isn't over yet. There's plenty of time to throw an event in celebration of the wonderfully warm and sunny weather! Why would you do that, you ask? Well, to grow your business, of course! The summertime provides the perfect opportunities to welcome new customers through your doors. Events take planning, however. And they also require some promotion.
Here are four ways social media can help to promote your summer event:
1. Release a highlight reel from previous events. Have you hosted an event before? If so, it's your first step into making the next one that you throw even better. On SocialMediaExaminer.com, Kimberly Reynolds highlights the fact that videos make up some of the most popular content found on the internet. By utilizing sites such as YouTube and Vimeo, you can really help boost your brand awareness this summer.
"Video provides a unique opportunity to convey the energy and excitement of a live event," writes Reynolds, "Great visuals and catchy audio are a potent combination that drives registration. It also creates engagement opportunities as the video is shared with friends." She goes on to point out that it's important to keep your target audience in mind when both creating your highlight reel and planning your party.
2. Post photos of past parties. In addition to videos, still photos are still incredibly popular in the social media world. Don't be afraid to post a bunch of pictures from your last event to show the world what a great time everyone had. Reynolds encourages you to post pictures that include some of your favourite attendees. By utilizing sites such as Facebook, you can both credit and tag these individuals as well.
She goes on to advise that you plan on snapping shots at your next party. "Take a flattering, fun picture of some of your attendees and create a status update," she suggests, "Identify the people in the picture and be sure to tag them if you can. This gives people an opportunity to comment and talk about how much they learned or what a great time they had and how much they're looking forward to attending again."
3. Request testimonials from your past party-goers. It is very often said that there is no better type of promotion than word-of-mouth promotion. So be sure to get on the horn to your previous party guests and make them the first invitees to your next event. While you're at it, kindly ask if they'll provide testimonials based on their last experiences with your company events. Reynolds champions this piece of advice as well. Use Facebook and Twitter to post the testimonials.
"Do you have great comments in the exit surveys from previous events?" she asks, "Maybe you've interviewed attendees or speakers and captured statements of excitement about specific sessions, speakers or your event in general. Don't let those nuggets go to waste! Create a template with branded images and a consistent color palette to help unify your marketing efforts and make it easy to share testimonial quotes."
4. Create a Facebook event page. Another amazing aspect of Facebook is its feature that specifically allows you to promote upcoming events. "Most people log into Facebook at least once a day," informs Reynolds, "Make it easy for them to keep up with event news by creating an event page listing. Your event page is also a great place to encourage networking before the event. The convenience of an event page also encourages sharing by attendees."
Be sure to check back for tomorrow's blog as we continue to explore ways that social media can help you promote your company's upcoming summer party!
Comments Off on 4 Ways Social Media Can Help Promote Your Summer Event