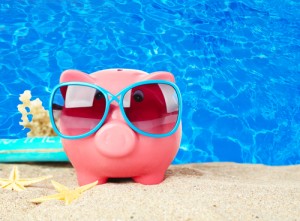 In yesterday's blog, we reached out to business owners who normally experience slow summer seasons. It's important to know that all hope should not be lost if you have such a seasonal business. There are a number of steps that can be taken to turn your summer around and make it a successful time of year for your business! In today's blog, we'll continue to look at ways that you can boost sales during your otherwise least successful time of year.
Here are three more:
1. Try upselling to your loyal customers. Too often, business owners get focused on attracting new customers, so they neglect those who have already supported their brands. It's important to never lose touch with those who have been helping your business to be successful since its inception. Call up your loyal customers and inform them of the various products and services you have available that may add value to the purchases they've already made.
On Hubspot.com, Emma Brudner writes that upselling to current customers is a top way to crawl out of a summer sales slump. "Since you're calling happy customers anyway, you might as well inquire about their usage of your product or service, and ask if they're bumping up against any of the limits," she suggests, "If so, time for an upselling conversation. Remember — sales isn't all hunting, all the time. Farming can be just as profitable (and is often far easier)."
2. Target "staycationers". The summertime is a popular time of year for people to plan vacations. Not everyone is doing it, however. There are those who would much prefer the comforts of their own homes when it comes down to spending time away from work. Create a marketing campaign that offers some special savings for those who are on "staycations". On Entrepreneur.com, Grant Cardone offers up some tips for how to focus these efforts.
"Focus some of your marketing efforts on prospective customers who plan to be around in July and August," he suggests, "Remember that these are clearly busy people who are pressed for time and can't afford a vacation or leisurely summer work pace. Take the initiative by distributing flyers, getting on social media and updating your website to let people know you will be around, too, and can offer something valuable to help them deal with their time constraints."
3. Network while on vacation. Perhaps, you already have your summer all planned out. You're going on vacation! After all, it is your slow season and this is what you're used to doing each time July and August come around. Take steps to improving your business this summer by networking while you're on vacation. You just may find that the summer can be a very lucrative time of year for you.
Brudner insists that you still work to grow your business even when you turn off your phone and laptop while on vacation. "Just because you've cast your go-to tools aside doesn't mean you have to stop networking," she says, "And isn't networking the basis of every strong sales process? Chat with the people at your hotel, or strike up conversations with the folks one umbrella over on the beach. You might just find a referral source — or better yet, a new prospect."
Of course, it's always good to take your company's promotional gifts with you wherever you go! To place your order for the promo gift of your choice, call Synergy Marketing at 1-877-748-9884 between 9am and 5pm EST or email us at info@gosynergygo.com! You can also sign up for our Insider E-Flyer Program HERE!
Comments Off on 3 More Ways To Boost Sales During Your Normally Slow Summer