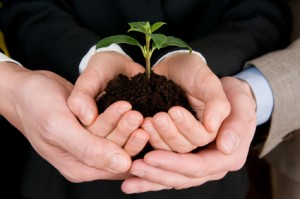 In yesterday's blog, we commented upon some of the more interesting Super Bowl commercials that were broadcast during the big game this year. This is a topic that we tackle (pun intended) every year as the Super Bowl broadcast is known as the biggest annual advertising opportunity for a wide variety of companies. Clearly, however, we're talking about some pretty big brands. Considering that 30-second slots command millions of dollars from advertisers, they're not exactly made for the small business owner.
Of course, there are many other ways for small business owners to promote their brands. In fact, we often argue that small business owners have certain advantages over their big-named counterparts. As a small business owner, you have the opportunity to interact with your customers on a more personal basis. And it's your personal interactions with them that help to grow your company's reputation and secure their loyalty.
So what are those ways that small business owners can grow their relationships? On EvolutionCP.com, Jeffrey Kadlic writes that there are a number of methods that actually cost entrepreneurs nothing to implement. Whether you're looking to jumpstart a new business or grow the one you've been running for years, his ideas are certainly worth considering. Here are five of his best.
1. Write a press release. No one knows your business better than you do. There are certainly worse ways to communicate your brand's mission statement than to email your subscribers on a regular basis. "Believe it or not, press releases are still useful in generating buzz around your business, and can be a cost-effective way of informing consumers and other businesses on what makes your company stand out in its field," writes Kadlic.
2. Participate in community outreach. There is arguably no better way to encourage the members of your community to support your brand than to give them your personal time and generosity. In some cases, sponsorships can help to promote your business for many months on end. As explained by Kadlic, "sponsoring a little league football or baseball team, volunteering at charity events, or openly contributing to a non-profit not only shows you're a business who's engaged locally, it adds to your overall value as an organization."
3. Don't forget to network. Even in this social media-crazed world, there are few things more effective than getting out there to meet people face-to-face. Especially when those people live in the area where your business is located, taking the time to popularize yourself among others can go a really long way. "Spend some time getting to know others in your area of influence, even if they are competitors," advises Kadlic.
4. Keep a regularly updated blog. Talk about taking our own advice, right? Writing daily blogs has worked wonders for growing our reach online. They also help to showcase our extreme knowledge of our industry. As Kadlic affirms, "You're likely an authority on the items and services you sell, so share your expertise with the public by writing a weekly blog post detailing the finer points of your small business. You can even expand your reach by writing on subjects you're passionate about but don't directly relate to your company."
5. Provide discounts and giveaways. If there's anything that customers love more than getting items at discounted rates, it's getting them for free! "There are fewer ways to generate interest from consumers who are still on the fence about purchasing your products or service than offering considerable discounts or giveaways on your website and social media pages," informs Kadlic. We couldn't agree more!
This is what makes promotional products so effective. Learn more about the great promo gifts offered by Synergy Marketing by calling us at 1-877-748-9884 today!
Comments Off on 5 Ideal Ideas For Growing Your Small Business