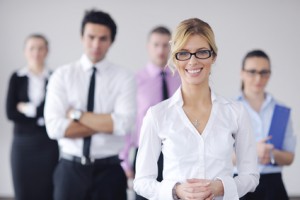 All week long, the Synergy Marketing Blog has been focused on the concept of the team. Celebrating your team when it is successful and supporting your team when it has opportunities to get better is a huge part of your job as a business owner. There are a variety of ways that you can help to foster team building, as we pointed out in yesterday's blog. In today's blog, we'll continue to look at ways to develop chemistry among your team members.
Here are four more ideas:
1. Get to know your team members personally. Your place of business holds a very important place in the lives of each of your team members. Consider the fact that your business name pops up whenever your employees are asked "What do you do for a living?" They should each be just as important to you as your business is to them. Do your part to learn about your employees personally.
Jennifer Britton of the UK-based Team Building Directory writes that getting to know your team members will help you to find out exactly what they are looking for to enhance their work and efforts. "One of the most common pitfalls of team building initiatives is that it does not match the needs of the team," she writes, "Ensure you invest enough time before the event itself to assess what team members really want."
2. Implement team-building activities in the office. Quite often, the activities that best help to build a team are the ones that are not directly related to the job. Giving your team members opportunities to grow their relationships with each other in more of a relaxed, social setting can go a long way in strengthening the team overall. Consider some activities that you can give your team that are fun and interactive to help encourage better chemistry between its members.
On Time-Management-Guide.com, Dr. Sergey Dudiy champions this suggestion. "Allow your office team members build trust and openness between each other in team building activities and events," he recommends, "Give them some opportunities of extra social time with each other in an atmosphere that encourages open communication. For example, in a group lunch on Friday."
3. Create an action plan. "Create an action plan to make the team building part of your everyday work or life," writes Britton, "Often retreat days or team building programs have few links with everyday business or organisational objectives. Ensure that when designing the program you create links to the organisation or to everyday life so that participants can 'bring the learning home'. This can be done by building into the program formal action planning time, and having managers follow up during regular staff meetings."
4. Don't be afraid to have fun once in a while. If you really want to develop a strong chemistry between the members of your team, allow them to have a little bit of fun. Whether inside or outside of the office, getting your employees to interact with each other in fun ways can really help to boost productivity. "Team building initiatives should be fun and engaging for all staff members," says Britton, "They should be relevant and meaningful for the team."
At Synergy Marketing, we always advocate for the giving out of promo gifts – not just to customers, but to your team members as well. Sending them home with great gifts that bear your company's name and logo reminds them that they are important parts of your team. To place your order for the promo gift of your choice, call Synergy Marketing at 1-877-748-9884 between 9am and 5pm EST or email us at info@gosynergygo.com! You can also sign up for our Insider E-Flyer Program HERE!
Comments Off on 4 More Ways To Develop Chemistry Among Your Team Members