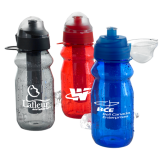 On behalf of the entire Synergy Marketing staff, we'd like to wish you all a very Merry Christmas and the happiest of holiday seasons! We're very appreciative of our great clients. Without you all, there's no way we could have reached our goals and grown our company in the past year. As well, we're thankful for the many new clients that we've developed relationships with in the past few months.
It gives us great pride to know that, as we grow our company, we are helping so many other Canadian businesses to grow themselves. This is what promotional products do. They help small business owners develop stronger relationships with their customers so that they achieve greater successes in the long run. Here's hoping that thanks, at least in part, to our newly-formed relationships, that you all have your happiest of holidays yet!
We just would like to inform everyone that we do have members of the Synergy Marketing sales staff working today and tomorrow during our special holiday hours. Although we generally close down for the holiday season, our offices will be open between 10:00am and 3:00pm Monday and Tuesday. Please don't hesitate to give us a call at 1-877-748-9884 to discuss getting your hands on some excellent promotional gifts to begin your marketing campaigns in 2015.
As you are likely well aware, Synergy Marketing has so many great promo products to choose from. You may even be wondering which ones would work best for your company and therefore, wish to take some time to think about it. We encourage you to call us today so that we can make your lives easier! Our friendly and knowledgeable sales staff is made up of experts of connecting the right promo gift to the right business owner. Here are a few suggestions.
Translucent Ice Scrapers. These are among our most popular promo gifts in the automotive industry. However, they don't necessarily have to be made exclusive to auto mechanics and the like. Considering that we live in Canada and it is, after all, winter time, it will be pretty hard to go wrong with a promo gift that can help your customers rid their car windows of ice and snow all season long.
100% Acrylic Toque With Cuff. Speaking of the winter time, it will be pretty hard to convince anyone that it's a good idea to go outside without a hat on. Our acrylic toques are perfect for any Canadian winter. Keep the heads of your customers warm while they promote your business for you all winter long. Another one of our excellent go-to promo gifts during this time of year, our toques are excellent traveling billboards for your brand!
500ml Water Bottle with Ice Stick. Some of you may be thinking passed the winter time when business resumes in 2015. And we can't say that that's a bad idea. Thinking ahead is always smart. Maybe hooking your customers up with some great water bottles for the summertime is a great way to get them thinking about your brand in a favourable light. After all, water bottles can be used all year round anyway!
Europa Sport Sunglasses. You forward-thinkers may also want to consider some cool shades to promote your business in 2015. Another year-round gift that helps for people to look forward to the days when the weather heats up, our Europa Sport Sunglasses are just one of four different sunglasses designs that we have available. Give us a call at 1-877-748-9884 today and let's get you the perfect gift to help your business have a happy new year!
Comments Off on Offering Holiday Hours To Get You The Right Gift!