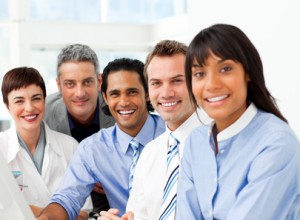 The Toronto Raptors have a tough task ahead of them tonight as they prepare for the second game of the NBA's Eastern Conference Finals. The heavily-favoured Cleveland Cavaliers, lead by all-star LeBron James, soundly defeated our hometown Raps by a score of 115-84 in the opening game of the series Tuesday night. Evidently, the Raptors will have to rally around each other and shake off the loss if they wish for a better outcome this evening.
All week long, we've been drawing parallels between the pro sports world and the Canadian small business landscape. Obviously, both worlds involve teams that must work together in order to perform to their best abilities and achieve success. And while it's important to celebrate those successes, it's just as important to work on team building whenever tough times are experienced. Much like the Raptors, you team is bound to go through hard days.
So what are the most effective ways to foster team building? Here are three ideas:
1. Clearly define each team member's role. In many cases, people play positions that they are best suited for. Whether it's on the basketball court or in the office, there are often particular team members who specialize in certain areas. Sometimes, it's important to remind everyone on the team which position they are required to play. Working together means allowing each team member to fulfil the unique requirements of his/her role.
Dr. Sergey Dudiy explains the importance of making sure there is complete clarity in who is responsible for what on Time-Management-Guide.com. "Do your best to avoid overlaps of authority," he advises, "For example, if there is a risk that two team members will be competing for control in certain area, try to divide that area into two distinct parts and give each more complete control in one of those parts, according to those individual's strengths and personal inclinations."
2. Give your team that confidence that they have your support. This past week, Toronto Blue Jays' manager John Gibbons was suspended by Major League Baseball for three games. The reason? He returned to the field during a brawl after he had already been ejected from the game for arguing balls and strikes. Later, when asked by the media why he returned to the field when he had already been ejected, he simply replied, "That's my team out there".
It's of vital importance that your team knows that it has the support of its superiors. "Supervisors and managers play a key role in 'keeping the learning alive'," says Jennifer Britton of the UK-based Team Building Directory, "Ensure that supervisors, managers and owners are following up with staff regarding what their needs are, and how team building efforts can be enhanced. Managers also play a key role in ensuring that the learning from team building initiatives is brought back to the office."
3. Involve everyone on the team in important decisions. It's important to make each member of the team feel that his/her contributions matter. And that's because they do! Don't neglect feedback. Each team member has a unique experience representing your business and based on those experiences, they can likely provide you with valuable information about how to best please your customers.
"For issues that rely on the team consensus and commitment, involve more the whole team in the decision making process," insists Dr. Dudiy, "For example, use group sessions with collective discussions of possible decision options or solution ideas. What you want to achieve here is that each team member feels his or her ownership in the final decision, solution, or idea. The more he or she feels this way, the more likely he or she is to agree with and commit to the decided line of action."
Be sure to check back for tomorrow's blog as we continue to examine ways to effectively develop chemistry among your team members!
Comments Off on 3 Effective Ways To Foster Team Building