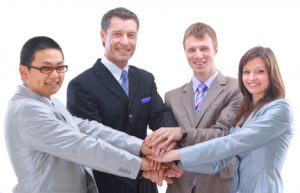 In yesterday's blog, we returned our focus to our beloved Toronto Raptors. Well, to be more specific, we revisited the topic of helping your team improve its performance when it is struggling. And saying that the Raptors struggled in their last game would be putting it mildly. Here's hoping, on behalf of the entire country, that the Raptors have a much better performance in Game 6 of the NBA Eastern Conference Finals tonight at Air Canada Centre.
As we're prone to do, here at Synergy Marketing, we liken the ups and downs of pro sports teams with the successes and missteps of Canadian businesses. Just like coaches, team leaders, office managers, supervisors and the like are all required to find ways to inspire their teams to improve upon their performances when they are struggling on the job. So what are the best ways to help your struggling team get out of its funk?
Here are four ways:
1. Remove obstacles that may be impeding performance. Is there any unnecessary red tape in the way of your staff members performing at their best? "You are often in a position to help remove unnecessary obstacles to your team's effectiveness," reminds David M. Dye on TrailBlazeInc.com, "When you have motivated team members who are trying to make a difference, getting needless frustrations out of their way can make you a candidate for manager of the year."
2. Implement one-on-one coaching. There will always be opportunities to help your company's productivity by holding meetings and providing information that will benefit the team at large. However, you should never underestimate the power of one-on-one coaching. Sitting down with various members of your team in order to pinpoint each of their specific needs and opportunities to improve will vastly help performance overall.
It's important, however, to dig a bit deeper into each individual situation. Learn about your reps and find out the unique and specific ways that each of them could benefit from your assistance. According to Tim Donnelly on Inc.com, too many managers fall back on something called "spreadsheet coaching". This is "where the focus is on whether the sales staff is hitting its numbers. Instead, you should be working closely with the individual sales representatives to understand the context of the problems."
3. Help your staff members to help themselves. It's always important to provide feedback, tips and advice to the members of your team who need it. Being able to depend on your assistance will give them greater confidence in asking for help when they are struggling. However, you can't do their jobs for them. Giving your team members the tools to fix their own problems will give you a stronger team. Encourage them to be self-reliant.
"I spent too many leadership years giving people answers to their questions or solving problems for them," admits Dye, "It felt good to be needed and it was easy…but it was NOT helpful. One of your most important leadership coaching tasks is to help your team members learn how to think about their challenges." He encourages team leaders to ask their staff members specific questions so that they can help to devise solutions on their own.
4. Reward standout performances. In the midst of your struggling team, there are bound to be members who have performed well. Don't forget to acknowledge their achievements and reward them for it. In many cases, team leaders and managers offer gifts by way of promotional products to reward members of their team. At Synergy Marketing, we proudly offer the best promotional products in the business!
To place your order for the promo gift of your choice, call Synergy Marketing at 1-877-748-9884 between 9am and 5pm EST or email us at info@gosynergygo.com! You can also sign up for our Insider E-Flyer Program HERE!
Comments Off on 4 Ways To Help Your Struggling Team Get Out Of Its Funk