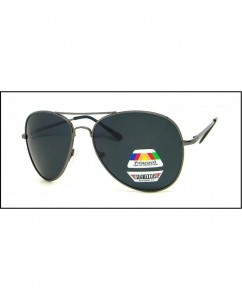 In yesterday's blog, we discussed the importance of wearing sunglasses throughout the winter. In fact, it's important to wear sunglasses all year long. Not only do they help to protect your eyes from the glare of the sun (which can be especially blinding when there is a lot of snow on the ground), but good sunglasses also offer protection from the sun's harmful UV rays. Not to mention, sunglasses protect your eyes from wind, dust and debris.
And while we pointed all of that out yesterday, we also mentioned that Synergy Marketing offers both polarized and non-polarized sunglasses as promotional gifts that you can give to your customers, colleagues and employees. But, as we asked at the end of our last blog, what's the difference between the two? Is one better than the other? On RebuildYourVision.com, Orlin Sorenson explains.
What are non-polarized sunglasses? We shall start with this variety of sunglasses because they are considered the "normal" type of sunglasses that the majority of people tend to wear. As Sorenson informs us, "normal sunglasses provide basic protection against both vertical and horizontal UV rays. However, they don't diminish the glare from reflected horizontal rays." He goes on to explain further.
"Sunlight is absorbed or reflected in many directions," writes Sorenson, "Sunlight reflected from a horizontal surface, like land, water or hoods of cars is often reflected back horizontally, producing a very strong glare. For us, it means that ground reflections cause a lot of interference with our vision on water or pavement." While non-polarized sunglasses can certainly help protect our eyes, polarized sunglasses provide an additional form of protection.
What are polarized sunglasses? "Polarized glasses have a built-in, laminated filter that permits only vertical light rays to pass through, and almost totally blocks horizontal rays to eliminate glares," describes Sorenson, "This is most noticeable when boating or fishing, since you can suddenly see through the surface, which was previously clouded by the reflections from the sun and sky above."
He goes on to write that the people who are most in need of polarized lenses are those who work on or around water. Fisherman and boaters are two examples. Because such lenses are made to reduce glare, it helps for those working on water to view deeper into the sea. "This can make a huge difference in fishing, since an angler can get a more accurate look at fish habitat," says Sorenson, who notes that it "can mean the difference between life and death" for a boater.
Polarized sunglasses are also great for driving. In yesterday's blog, we highlighted the fact that Canadian winters are known for the large amounts of snow that fall to the ground. UV rays are known for bouncing off of such bright surfaces into our eyes. Sorenson writes that, during the summer, horizontal rays of light also reflect off of the road. This increases eye fatigue and discomfort. "You can instantly reduce this glare with polarized glasses," he insists.
At Synergy Marketing, we're proud to offer both polarized and non-polarized sunglasses as high-quality promotional gifts found in our Automotive section. For more information, or to place an order for the sunglasses of your choice, call us at 1-877-748-9884 between 9am and 5pm EST or email us at info@gosynergygo.com! You can also sign up for our Insider E-Flyer Program HERE!
Comments Off on Looking At Polarized And Non-Polarized Sunglasses