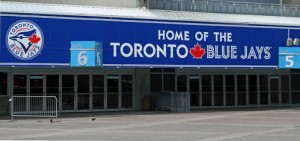 Don't look now, but our hometown Toronto Blue Jays are in first place in the American League and are on one hot winning streak! You'll have to forgive us for getting this exciting this early in the season. Considering the dismal end to last season (a dead last finish in our division), you can't blame us for celebrating the recent success being had by our Jays.
As sports fans in the City of Toronto know all too well, before the beginning of the 2013 Major League Baseball season, many moves had been made to significantly improve the Blue Jays' roster. Many even predicted our new look team would win the World Series. Of course, that was not to be. Not even close. A host of injuries coupled with underperformances by some big stars made for a bust of a season.
But as of yesterday's 3-1 victory over the Oakland Athletics, the Jays managed to pull off their second sweep in a row. The reigning World Series Champion, Boston Red Sox fell in all three games played with the Blue Jays last week. Is this a sign of things to come? Will the Jays be able to hang on to their lead of the American League East? Will this season become the one we expected last year?
"It may be a little early to start planning any parades," commented one of our Synergy staff members yesterday, "The recent winning streak is great. But let's not forget that the Jays had an 11-game winning streak last year and that didn't do much to save our season. What's working in our favour is that the rest of the A.L. East isn't playing so well. So if the Jays can keep up their winning ways, we'll be in good shape."
Well things are certainly in good shape right now in Blue Jay land. Yesterday's afternoon game was a sellout at the Rogers Centre. The large crowd was encouraged, in part, by a free jersey giveaway. The first 20,000 fans received replica jerseys of either Jose Bautista or Edwin Encarnacion – two of the Jays' biggest stars. See…we told you free giveaways work!
"Man, was it a fun day!" exclaimed our rep who took the game in live at the former SkyDome, "The place was packed, the sun was hot and the Jays did it again. There was a lot of energy in the building reminiscent of the days when we were playoff contenders, back in the early 90's. I'm hoping that the Jays keep it up, because there's nothing like putting a winner on the field to fill the seats."
It certainly does help that the Jays are currently 29-22 and have a two game lead over the New York Yankees for top spot in their division. This is a place they have not held in five years. Expect the Synergy Marketing Blog to devote a bit of attention to the Blue Jays' season as it did last year. Here's hoping that this year's blogs, however, will be filled with much happier news.
Tonight, the Blue Jays welcome their division rivals, the Tampa Bay Rays to the Rogers Centre to begin a three game series. It's certainly a good time for our hometown heroes to keep up their winning ways as beating teams in the same division is the best way to secure a playoff spot. Yes it's early. But we're excited! And if you're a Toronto sports fans, you should be too. Let's go Blue Jays!
Comments Off on Toronto Blue Jays Enjoying A Red Hot Streak!