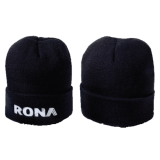 In the City of Toronto – home of Synergy Marketing – we experienced some pretty decent weather yesterday. It certainly helped for the city's Remembrance Day events to be celebrated in better comfort than in recent years. However, the cold weather is imminent. In fact, it's a lot chillier today. And that brings an important thing to mind. Keeping warm during the winter season is of paramount importance, right? Of course! So why not help your customers to do so?
As a business owner, you're always thinking of ways to impress your customers. And, at Synergy Marketing, we're always thinking of ways to help you to do that. Our amazing 100% Acrylic Winter Toque with Cuff is the ideal way to both promote your business and impress your customers this winter. Naturally, they help to keep people's heads warm. These comfortable winter hats, however, also serve to promote your brand to all who see them.
This point, naturally, is the most important reason for you to consider offering our 100% Acrylic Winter Toque with Cuff to your customers. Warm, cozy and comfortable, these toques are available in black, blue, and grey. They're the perfect ways to beat the cold while promoting your business all winter long. Can you picture your business logo on a great toque? Here are five reasons to make it your promo gift of choice this winter.
1. They're perfect winter attire. Okay, so it's obvious that it gets cold outside in the winter in Canada. But, sometimes it's not so obvious for people to put their winter hats on. Surprisingly, many people "forget" to bundle up during the winter's coldest days. Your promotional toques provide you the opportunity to kindly remind your favourite customers to keep warm. In return, they'll remind others of your business.
2. They are moving billboards. Of course, when people wear your promotional toques, they serve as advertisers of your brand. Wherever they go, your advertisement goes. Promo gifts that can be worn are arguably the most effective advertising agents for your business. This is because they have the ability to spread awareness about your brand in places you may never have visited yourself. At just $9.99 a piece, you can't find more cost-effective billboards anywhere!
3. They highlight your status. So what does that mean exactly? Well, businesses that have branded clothing are often revered as top-of-the-line type of establishments. It says something about your brand when money is invested into clothing that carries its logo. When people where the clothing, it connotes that the brand is something to be proud of. Your toques, therefore, will also make great gifts for your family and friends who will surely enjoy wearing them for you.
4. They inspire loyalty. As with all promotional products, your promotional toques will further the customer loyalty you have attained. Firstly, people love getting things for free. So the gesture of giving itself will go a long way in pleasing those who receive your gift. Secondly, promo gifts often encourage recipients to speak highly of the brand giving out the gifts. In the case of toques, it inspires people to proudly represent your business for you.
5. They speak to your "Canadianess". At Synergy Marketing, we are proudly Canadian. This is a trait that we share with our clients from all over the country. A toque is a uniquely Canadian item. Sure, winter hats exist in countries all over the world. But "toques" are Canadian things. Giving them out as gifts and wearing them yourself says a lot about your national pride. Your customers are bound to feel the same.
To order your custom-branded 100% Acrylic Winter Toques with Cuff, call Synergy Marketing at 1-877-748-9884 today!
Comments Off on 5 Reasons To Make Toques Your Promo Gift Of Choice