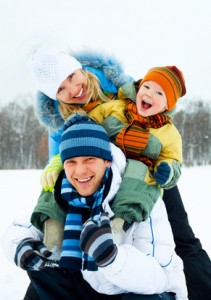 Today is Family Day in the Canadian provinces of Alberta, Manitoba, Saskatchewan, British Columbia and Ontario. As a result, Synergy Marketing's Toronto-based headquarters will be observing the holiday. However, our offices will be open and ready for business first thing tomorrow morning! Today, we'd like to take the opportunity to offer everyone who is observing Family Day a very joyous day with their loved ones.
We know, however, that as a business owner, it's difficult to take any days off. Even when you're not in the office or at your store, you're likely thinking of ways to improve business operations throughout the rest of the week. It's important to remember that you deserve a break every now and then. So don't forget to enjoy today in the spirit of the holiday. After all, nothing beats spending quality time with your family!
That said, we do know that keeping the best interests of your business in mind is of key importance. So we'd also like to take this opportunity to encourage you to consider an inventive way of promoting your brand that won't exceed your marketing budget. Promotional products have been helping Canadian business owners to grow their companies for many years now. And we're happy to say that we offer the best promo products in the business!
The sales reps, here at Synergy Marketing, are the best people to speak to about which promo products would work best for your business. We have so many to choose from that, sometimes, making the choice can be difficult. Certain gifts suit certain businesses better than others. Our Transulcent Ice Scrapers, for example, are big hits in the automotive industry. But given how cold it has been in Toronto lately, we can't imagine that anyone couldn't use these great gifts.
"It's so freezing," commented one of our colleagues this past weekend, "Any gift that helps people out with the effects of winter is bound to go over well." Naturally, ice scrapers are made to be durable and effective in clearing your windshields of snow and ice. One of the biggest nuisances for drivers during the icy-cold winters is the task of scraping the ice off the windows of their cars before they can hit the road. In many cases, this has to be done in a hurry!
Our extremely strong and compact Translucent Ice Scrapers are the answer to your problems. Available in black, blue and red, these ice scrapers are the sturdy and convenient solutions to quickly getting your vehicles road-ready in wintery weather conditions. And given that we're experiencing below freezing temperatures all week, it would be hard to go wrong with these babies. Obviously, Toronto is not alone in experiencing quite the frosty winter.
So don't hesitate to give our sales reps a call tomorrow morning by dialing 1-877-748-9884. And, in the meantime, enjoy your Family Day. Toronto residents are being offered a wide array of activities to participate in today. As reported by Leslie Ferenc of The Toronto Star yesterday, the options include "free activities at any YMCA of Greater Toronto health and fitness centre, including swimming."
In addition, you can take in either the Cold Creek Winterfest or the Markham Museum Winterfest. There are also events taking place at Hillary House National Historic Site, Museum of Inuit Art, Winged Canvas, Bata Shoe Museum, Willowgrove and Elman W. Campbell Museum. Check out The Toronto Star's website for more information. Have a great Family Day! We look forward to speaking with you tomorrow.
Comments Off on Enjoy Your Family Day!