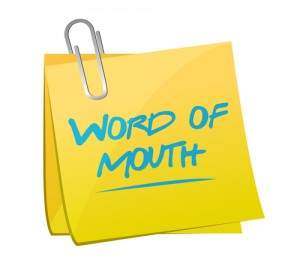 Synergy Marketing has been providing Canadian small business owners with wonderful promotional products to advertise their companies for many years now. They've all realized that handing out free gifts to customers, colleagues and co-workers can do quite a lot to boost brand recognition. At the top of the list of benefits is the fact that promo gifts inspire brand loyalty. And brand loyalty leads to a lot of word-of-mouth promotion.
It's hard to beat the power of word-of-mouth. It's the type of advertising that you've earned based on your rapport with actual supporters of your business. It's not of the paid-an-arm-and-a-leg-for-it variety. So arguably, word-of-mouth promotion is seen as having a lot more legitimacy. As you can imagine, promo gifts are joined by many other methods of securing word-of-mouth promotion.
Here are three simple ways that can help:
1. Straight up asking for it. Who ever said that asking for help was a bad thing to do? When it comes to word-of-mouth promotion, it certainly doesn't hurt to ask your happy customers to spread the word about your business. What have you got to lose? If you know that you've greatly satisfied a customer – especially one who offers kind feedback – feel free to kindly ask him or her to pass the good news along to friends.
On TechnologyTherapy.com, Jennifer Shaheen writes that with the advent of social media, asking for word-of-mouth promotion can go a really long way. "The idea of discussing your brand on Facebook, Twitter, or Pinterest might have never occurred to (your customers)," she writes, "but if you explain that it will help your company out, people are often happy to share a post or two."
2. Give them a reason to. Sounds like a bit of the obvious, doesn't it? If you want people to talk about your business, you have to make them want to. And, as you may have guessed, it all comes down to providing exceptional service. "Going all out to deliver exceptional services can get your customers talking about your business to family and friends," says Ajaero Tony Martins on MyTopBusinessIdeas.com.
He also notes that making your business interesting and unique will get people talking about it. "The first step to promoting your business with word of mouth marketing is by generating something to be talked about," says Martins, "Call it a buzz and you won't be wrong but it must be worth sharing with others. If your business offers nothing exciting or puzzling to be talked about; then you can never harness the power of word of mouth."
3. Create a "selfie" station. In today's world, it's totally not uncommon to see people posing with their smartphones in hand, taking pictures of themselves. Yes, the "selfie" is an all-too-popular practice these days. So why not take advantage of it? Shaheen is a big proponent for using social media to get people to spread the word about your company. Creating a "selfie station" in your store just might do the trick!
She provides some tips on how to get one going. "All you need is a convenient place for people to stand, perhaps with a sign with your store's logo and a #IWish hashtag," suggests Shaheen, "A great idea for jewelry stores is the hopeful bride-to-be posing with a stunning engagement ring on her hand with the hashtag #HintHint. There's no harm in letting your customers do your selling for you!"
Comments Off on 3 Simple Ways To Secure Word-Of-Mouth Promotion