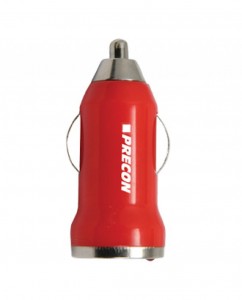 At Synergy Marketing, we have long heralded the power of the promotional gift, insisting that it is arguably the best way to cost-effectively advertise a business. Admittedly, the ways in which companies utilize their promo gifts often determine just how successful they are in reaping the benefits of such a marketing strategy. In addition, the type of promo gift used by a business owner also factors in to the benefits it provides.
Our sales team has often recommended promo gifts to their clients based on their industries. Key chains, for example, work wonders in the real estate world. They're also very popular among mechanics. However, those in the automotive industry also get a kick out of using our new USB car chargers as their promotional products of choice. Of course, we have a wide selection of promo gifts to choose from for members of all industries.
But which promo gift is best for you? One thing is for sure. It must be of high quality. At Synergy Marketing, we only deal in high quality promo gifts. Now, that doesn't mean expensive. In fact, the majority of our products are very cost-effective. For us, "high quality" simply indicates that our gifts are long-lasting, durable and expertly crafted. On GrowSocially.com, K'Lee Banks discusses the importance of promo gift quality.
"The challenge is to find those promotional products that really work, and the methods to use that will best present them," she writes, "Practical promotional products, or genuinely unique or intriguing ones, are generally much better received than poorly made products or mere gimmicks. The main idea of promotional products is to include at least the business name and contact info on them, as a way to increase brand awareness."
But which promotional products does Banks feel are the most useful?
Notepads, notebooks, and binders. We can't say we disagree. Synergy Marketing's catalogue of Desktop products has long been successful. In addition to notepads and binders, we also offer rulers, calculators, cleaning cloths (for computer screens), letter openers and even retractable mouse pads. All of these gifts make perfect additions to any office worker's desk space. Being regularly useful, these gifts offer advertising on a daily basis.
Pens and pencils. Quite simply, you can't go wrong with these writing utensils. Sure, they're a bit more on the conventional side of things. But people use pens every day. Yes, even in today's digitally-obsessed world, there is a need for pens. Synergy Marketing has a wide array of pens to choose from. They are not only among the useful promo gifts around, but are the most cost-effective as well.
Key chains. We mentioned these earlier. But it bears repeating since they appear on Banks' list of "Best Ideas For Promotional Products". Also considered conventional gifts, key chains represent the type of promo gifts that aren't likely to annoy their recipients. Banks feels that this is an important part of the entire marketing strategy that involves the giving out of promo gifts.
"The goal of small business owners should be to attract and appeal to customers—NOT annoy them!" she insists, "While most people appreciate a good deal, they typically do NOT appreciate gimmicks. The word itself conjures up the idea of being tricked or 'bamboozled' and that's not a good feeling to stir up in any customer."
To place your order for the high-quality promo gift of your choice, call Synergy Marketing at 1-877-748-9884 between 9am and 5pm EST or email us at info@gosynergygo.com! You can also sign up for our Insider E-Flyer Program HERE!
Comments Off on The Importance Of Quality In The Promo Gift World